Wow! I haven't blogged since 2009!! How the heck did that happen? Do I really watch that much television?! I guess I've been busy with my day job, drawing cartoons for Ticklemonkey and
I'm just back from an extensive stint shaving wild bush poodles in the Serengeti. This I do for charity. So, onward and upward, as they say…and just a little to the left.
One of my favorite cartoon characters of late is this goofy gopher, who looks slightly stunned
. I'm guessing the paparazzi caught him by surprise. Also, he's naked. I can't begin to tell you how many times this has happened to me.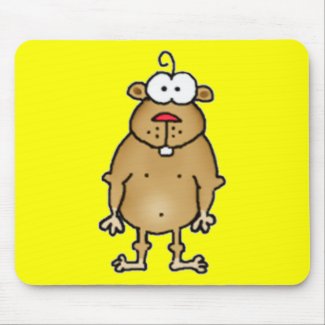 Cartoon Gopher Mousepad
by
Taylor Addams
A little more on the cutesy side is this little baby dragon, shown here on a Speck iPad case. I spent a lot of time on this little guy getting him just right. This is definitely my favorite cartoon character in the non-goofball category.
All of my cartoon drawings are available on a great selection of products at
Ticklemonkey.